Bridget Griffen-Foley, Sydney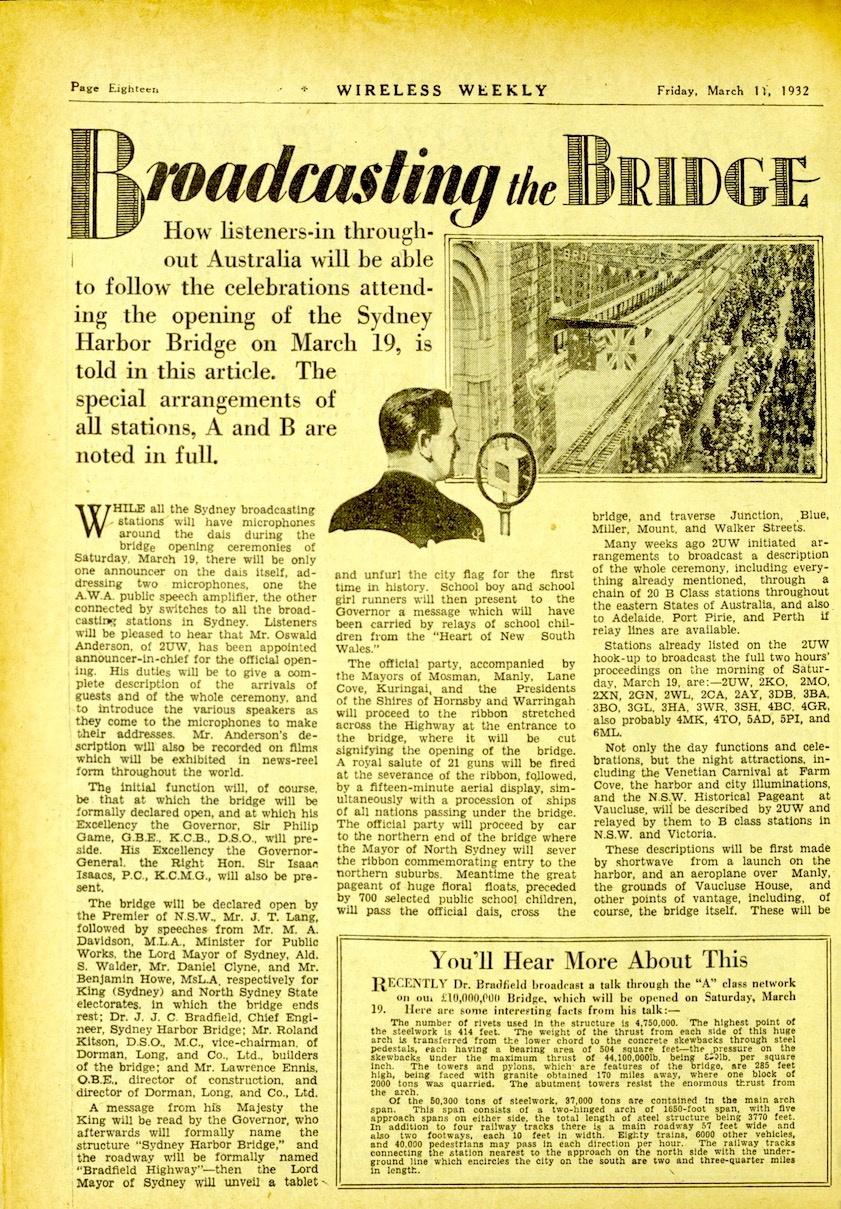 'Broadcasting the Bridge Celebrations' outlined plans for the radio coverage of the opening of the Sydney Harbour Bridge on 19 March 1932 (Figure 1). The journal it was published in, Wireless Weekly: The Hundred Per Cent Australian Radio Journal, had been launched in 1922, the year the BBC was founded and the United States experienced a radio boom. That same year, a new category of 'broadcasting station licences', which recognised that telegraphic messages could be transmitted ('broadcast') to more than one individual, had been specified under the Commonwealth of Australia's Wireless Telegraphy Act of 1905. Florence Violet Wallace, probably the first woman in Australia to earn a diploma in electrical engineering, along with R.C. Marsden of the Wireless Institute of Australia and journalist A. Mitchell, had hatched plans for the periodical from her radio shop in Sydney's Royal Arcade (Nelmes, 2012, p. 83). Wireless Weekly set out to defend the interests of the amateur experimenter, give its readers news about overseas developments, demystify a 'science' to a public bemused by the wondrous new medium, and run advertising from radio manufacturers (Griffen-Foley, 2009, p. 4).
'The Sydney Harbour Bridge did more than merely unite the two sides of the harbour; it inspired a city and a nation, long before it was even completed', writes Jim Poe (2014). The laying of the foundation stone in March 1925 was covered by the fledgling new medium of radio. Herbert H. Fishwick, a photographer with Fairfax newspapers, captured a series of images of dignitaries – including the New South Wales Governor, Sir Dudley de Chair, and Premier Sir George Fuller – on a dais at Dawes Point. These images show officials standing before a radio microphone ready to deliver their speeches, with a large crowd assembled in the foreground (Fishwick, 1925).
Images of the emerging Harbour Bridge by painter Grace Cossington Smith, and photographers Henri Mallard and Harold Cazneaux, are among the most iconic. The construction of the Bridge was documented by newspapers and magazines, including The Home, a modernist Sydney magazine published between 1920 and 1942. The Home ran glamorous photographs and paintings of the construction, which was followed by Australians mired in the Great Depression.
Opening celebrations were organised by a committee of prominent politicians and other men which formed in 1931 under the chairmanship of the Lord Mayor of Sydney to oversee the festivities (Citizens of Sydney Organising Committee, n.d.). The opening in March 1932 was a multi-media event, with special newspaper supplements, a relay broadcast, and newsreel coverage. It came just a few months before 'A-class' radio stations (funded by revenue from listener licence fees) were to be consolidated into a new public service broadcaster, the Australian Broadcasting Commission (ABC). Some 'B-class' (commercial) broadcasters were interested not just in forming networks to share expenses and create a larger market for advertisers, but to challenge the ABC's claim to be the 'national' broadcaster (Griffen-Foley, 2009, p. 17). In 1930 Oswald Anderson, manager of one of Sydney's most successful stations, 2UW, urged B-class stations to 'scrap petty jealousies, and … come to some understanding of our mutual interest in the progress of "B" class broadcasting towards a national audience' (Will 'B' Class Stations Organise Chain Broadcasts?, 1932).
Anderson scored a coup in 1932, when he was anointed announcer-in-chief for the official opening of the Bridge on the morning of Saturday 19 March. Wireless Weekly – with a bias towards commercial broadcasting interests – detailed the arrangements. Although Sydney's eight stations would have microphones around the dais, Anderson would be the only announcer on the dais itself, speaking into two microphones, one for amplification and the other for a relay broadcast to 20 B-class stations around Australia. Amalgamated Wireless Australasia (AWA) was given technical responsibility for the complex broadcast arrangements (Broadcasting the Bridge Celebrations, 1932; Harbour Bridge, 1932; National Bridge Broadcast, 1932). Anderson's description was also to provide audio for newsreel coverage (Inglis, 1983, pp. 13-14).
What the report could not know, a week before the event, was just how dramatic the ceremony was to be, with Francis de Groot of the fascist paramilitary organisation the New Guard crossing the Bridge on horseback and slashing the ribbon before Labor Premier J.T. Lang could do so. 'Mounted Officer causes World sensation at official opening ceremony' began the British Pathé newsreel (British Pathé, 1932).
More than 750,000 people (over half the population of Sydney) lined the streets and Harbour to watch the pageantry (Elmoos and Murray, 2015), including a royal salute, an aerial display, and a procession of ships of various nations passing under the Bridge. Wireless Weekly explained that announcers from Sydney A-class station 2BL, led by H.P. Williams (see Inglis, 1983, p. 25), who was to become the ABC's first general manager, would broadcast descriptions of the opening for other A-class stations. A historical pageant in Vaucluse in the afternoon was covered by 2UW and relayed to other B-class stations in New South Wales and Victoria; Sydney's other A-class station, 2FC, covered the pageant for the national network between broadcasts of horse races. B- and A-class announcers, on the Bridge and from the Harbour, also covered a Venetian carnival and other festivities that night (Broadcasting the Bridge Celebrations, 1932; National Bridge Broadcast, 1932).
Wireless Weekly's two-page feature on these plans included a break-out box, headed 'Wirelessing the Bridge Into Position'. It explained that chief engineer Dr J.J.C. Bradfield had been invited to open the Radio and Electrical Exhibition held in the Sydney Town Hall earlier that month, which in turn had inspired Wireless Weekly to editorialise on Australian radio 'coming of age' (Broadcasting the Bridge Celebrations, 1932; Future of Wireless, 1932). In March 1932 it seemed that Australia itself was coming of age, with the radio coverage of the opening explicitly bringing together two technological marvels. While the Harbour Bridge united the nation's first and largest city, proponents of 'wire-less' hoped that the new medium would draw the mother country and the dominions into the imperial family, the citizens of the city and the outback into the national family, and members of the household into a family circle (Counihan, 1982, p. 201).
The Reisz microphone supplied by AWA and used by Anderson was signed by all 10 dignitaries who presided over the ceremony, including Lang, Bradfield, and the New South Wales Governor, Philip Game. Held by Sydney's Powerhouse Museum (Burger, 2007), the microphone was the centrepiece of one of Australian radio's first outside and actuality broadcasts. The 'Broadcasting the Bridge Celebrations' article focused on an ambitious technical feat, exposed some early tensions between A- and B-class broadcasters, and drew a nexus between radio and urban architecture as icons of Australian progress and modernity.
An advertisement for Diamond radio batteries in the same issue of the Wireless Weekly was even more explicit, claiming that radio and the Bridge were 'TWO Great Australian ACHIEVEMENTS' that were 'built to last' (Diamond Radio Batteries advertisement, 1932).
References
British Pathé (1932). Sydney Bridge Opened.
Broadcasting the Bridge Celebrations (1932, 11 March). Wireless Weekly, pp. 18-19.
Burger, David (2007). The Microphone Used for Sydney Harbour Bridge Opening.
Citizens of Sydney Organising Committee, (n.d). Ephemera and news clippings [AS-1146]. City of Sydney Archives, Available from https://archives.cityofsydney.nsw.gov.au/nodes/view/63658
Counihan, Mick (1982). The formation of a broadcasting audience: Australian radio in the twenties. Meanjin, 41 (June), 196-201.
Diamond Radio Batteries advertisement (1932, 11 March). Wireless Weekly, 11 March 1932, p. 2.
Elmoos, Laila and Murray, Lisa (2015). Building the Sydney Harbour Bridge. The Dictionary of Sydney.
Fishwick, Herbert H. (1925). Address for laying of the foundation stone for the Sydney harbour bridge is broadcast at Dawes Point, Sydney, 26 March, 1925. PIC/15611/14013 LOC, Fairfax archive of glass plate negatives, State Library of NSW.
Future of Wireless: Exhibition Opened (1932, 3 March). Sydney Morning Herald, p. 10.
Griffen-Foley, Bridget (2009). Changing Stations: The Story of Australian Commercial Radio. UNSW Press.
Harbour Bridge: Broadcasting Opening (1932, 9 March). Sydney Morning Herald, p. 14.
Inglis, K.S. (1983). This is the ABC. Melbourne University Press.
National Bridge Broadcast (1932, 18 March). Wireless Weekly, p. 9.
Nelmes, Michael (2012). McKenzie, Florence Violet (1890–1982). In Australian Dictionary of Biography (vol. 18, pp. 85-86). Melbourne University Press.
Poe, Jim (2014). Sydney Harbour Bridge. The Dictionary of Sydney.
Will 'B' Class Stations Organise Chain Broadcasts? (1930, 18 July). Wireless Weekly, p. 9.
Acknowledgements:
I am grateful to Dr Hans-Ulrich Wagner and Dr Justine Lloyd for their comments on this essay.
---
About the Author
Bridget Griffen-Foley FAHA is a Professor of Media at Macquarie University, where she founded the Centre for Media History. Her publications include Changing Stations: The Story of Australian Commercial Radio (2009) and Australian Radio Listeners and Television Viewers: Historical Perspectives (2020). She also edited A Companion to the Australian Media (2014).