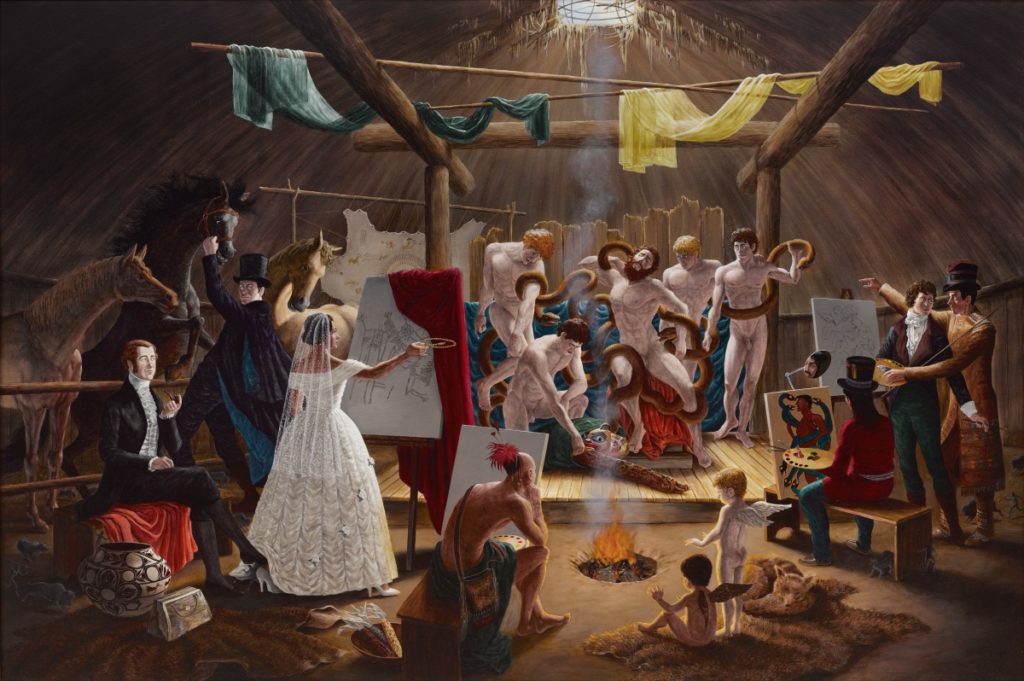 Candace Savage, A Geography of Blood: Unearthing Memory from a Prairie Landscape, Greystone Books, 2012.
James Daschuk, Clearing the Plains: Disease Politics of Starvation and the Loos of Indigenous Life, University of Regina Press, 2019.
Sara Florence Davidson & Robert Davidson, Potlatch as Pedagogy: Learning through Ceremony Portage & Main Press, 2018.
Tomson Highway, Kiss of the Fur Queen, Anchor-Random House, 1998.
Heather Dorries, Robert Henry, David Hugill, Tyler McCreary, and Julie Tomiak, eds., Settler City Limits: Indigenous Resurgence and Colonial Violence in the Urban Prairie West, University of Manitoba Press, 2019.
As so often happens, books are read together with, in between the chapters and interleaved in other books and readings. Six texts have floated through the Space and Culture atelier over the last month, partly responding to teaching demands, partly rediscovered as I unpacked my library for another term on the western limits of the Prairie. These books formed an unintended "curriculum" for my reflections as we taught texts such as Joe Sheridan's work, referenced here in the past, and worked on the wilderness storytelling site wildsprits.uaberta.ca
What is often remarkable for me is to discover the books that put the genocidal history of the American and Canadian prairies in front of the public years before it was noticed. Or, that decades before Canada's Truth and Reconciliation Commission, that stories such as the powerful tragedy of the residential schools and the magically triumphant spirit of Métis and Cree people could be told through a childs' delight in music, dance, and story by Tomson Highway. Candace Savage narrates a settler's journey to awareness through excursions around small border towns. This could almost be a tour guide to towns on both sides of the Canada-US border: Fort Walsh, Eastend, Maple Creak, the Treaty 4 region, and the Cypress Hills. However, Savage's guide unearths repressed history and confronts small-town museums' self-aggrandizing presentations of colonial necro-heroes such as Buffalo Bill Cody, famed killing over 4000 buffalo in 8 months and 48 in 30 minutes, and also for scalping a Cheyenne brave in 1876 in revenge of Custer's death. Through a series of travelogues, the book works up to an extended dialogue with Piikáni Indigenous elders. It recovers not only the history but the memories and inherited experience of place, the land and its resources that were central to Indigenous survival. These are intangible, invisible to most visitors; however they fill the space or geography that is explored. Curly Bear Wagner tells her in Cody Wyoming, "There really is no such thing as empty space." History fills these places as "a space of time that is filled always filled with moving…" says an epigraph from Gertrude Stein. "Wisdom sits in Places" as Dudley Patterson, an Apache elder put it for Keith Basso.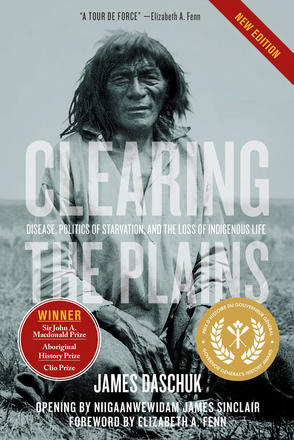 The new edition of Clearing the Plains features a thin, unidentified "Cree Indian" photographed at Maple Creek Saskatchewan in 1884 (see above). This anthology offers a textbook compendium of the engagement of Indigenous and Europeans in the fur trade over the 18th and 19th centuries. As Niigaan James Sinclair describes it, Daschuk shows in painstaking detail the opportunistic and callous history of famine, over-hunting, and flood to clear Indigenous prairie tribes by settlers and colonial administrations. Draconian legislation and starvation coerced Indigenous leaders into signing treaties that confined their peoples resources and controlled and erased them from public consciousness. Originally published in 2013, two years before the Truth and Reconciliation Commissions (2008-15) Executive Summary of June 2015, this is an essential one-volume history of what settlement of the prairies really meant. This edition includes three critical responses on the reception of the book and the challenge of collectively recognizing the ethnic cleansing that took place in the 1800s and teaching this history in schools. Even in 2022, this history is poorly integrated into Canadian curricula. As a result, most Canadian readers will struggle to fit this history to the very familiar geography of places and better known colonial figures.
In the context of Haida customs such as the Potlach and ceremonial construction, Davidson and Davidson follow intergenerational learning from elders through relationship building around community activities such as fishing, ceremonies, building and even dealing with fires and local disasters. These activities and contexts embody a pedagogy of observation, contribution, and the recognition and development of individuals' strengths. Learning by doing. The traditional protocols embedded in everyday activities lift them into a reinforcing practice that honours elders, ancestors, other species and the ecosystem of places and regions. This is the difference between a focus on the skills to efficiently complete a task and attention to the ways that a task integrates the person performing it into a set of material, inter-species and inter-generational relationships by which we are part of something larger than ourselves. The historical silencing of potlach ceremonies, story telling, and totem carving, and shunning of inherited leadership included displacing children to distant residential institutions and control of local economic life by a government-appointed Indian Agent and still relies on pro-development Band Councils ratified by the government. The book is frank in showing how Haida traditional ceremonial texts and ceremony now exists only in improvised form. The foundation stories and intellectual tradition of the Haida people, such as the great nineteenth century Haida story-keeper Ghandl, have been recovered from anthropologist's notes. However, this recovery anthropology is controversial and the translations run the risk of appropriation. Nonetheless, they have brought attention and vigour to the struggle to preserve Haida culture and language.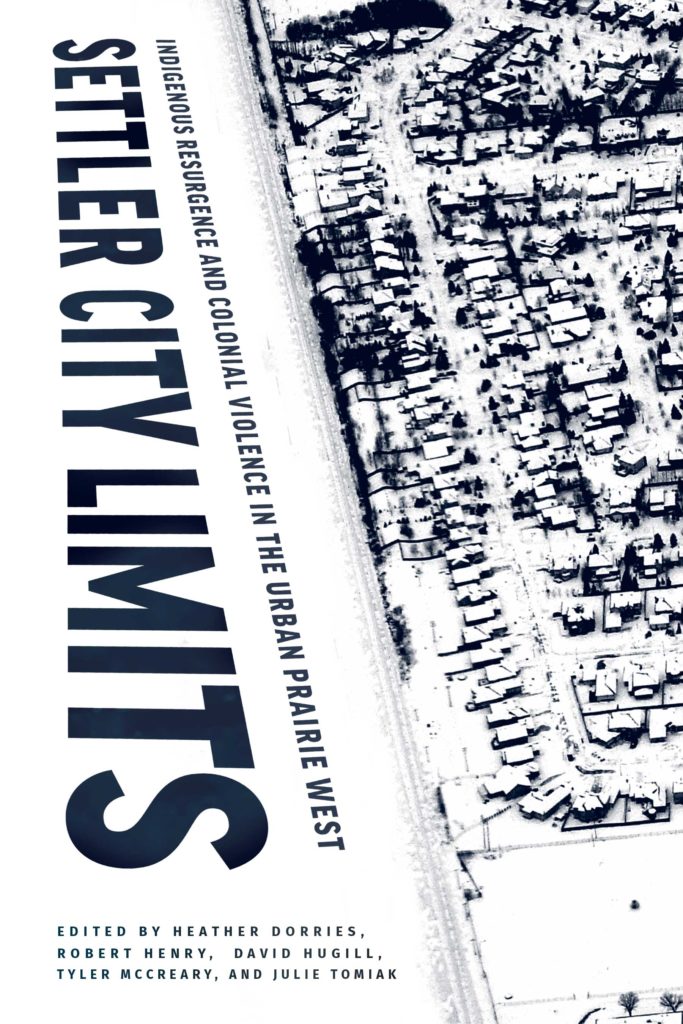 The collective work of Heather Dorries and her colleagues highlights the role of cities as a concentrating point for public awareness of the legacy of this Indigenous history in the form of social, crime and health issues. This urban presence is in turn the basis for resistance in Indigenous reclamation of land and respect. A greater awareness has always been latent and waiting to be brought into focus, as in the case of some prairie public art that Zoe Todd shows racializes others and celebrates white histories, but also make the evidence of genocide and racism present in the city once it is recognized. Settler colonial and capitalist logics have shaped cities and their suburbs. Rather than settler-colonial narratives and urban boosterism, the book highlights Indigenous resistance and resurgence that operates across the division between urban and rural, city and reserve.
-Rob Shields (University of Alberta)