Elena Siemens and fellow lamplighters (University of Alberta)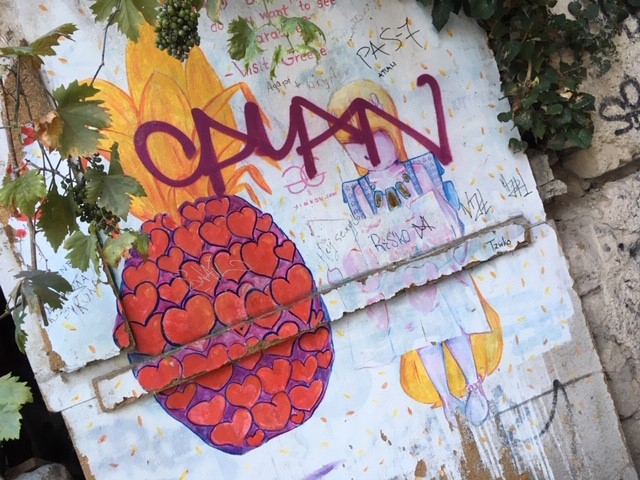 In the winter, still dreaming Athens in faraway Alberta, I staged an improvised workshop asking students and instructors to complete this line: "A chandelier is…" Everyone was free to write whatever came to mind.
A chandelier is:
"A photograph of the past. A sign of luxury"
Maria Andrade
"A dangerous piece of equipment… potentially…"
Luke Bittman
"Beauty and the beast"
Mathieu Martin-LeBlanc
The Chandelier restaurant was where some of us gathered after the first day of our conference panels in Athens. Its name notwithstanding, it had no actual chandelier. To fill in the blank, I took a snapshot of a big bright pineapple on the graffiti wall across the street. Magritte and his fellow Surrealists would have approved. As in Magritte's "C'est n'est pas une pipe" (The Treachery of Images), my pineapple is not a pineapple but a chandelier.
In the film In Search of a Midnight Kiss (dir. Alex Holdridge, 2007) – one of the key components of my conference talk in Athens – Vivian and Wilson wander around downtown LA on New Year's Eve. Vivian spots a lost shoe on the ground and takes a picture of it. She tells Wilson that she finds it fascinating "how can anybody just lose one shoe." She has been taking photos of lost shoes for 3 years and has a website "thelostshoeproject.com." My own search for the missing chandelier is now several years old as well.
A set of framed Phantom of the Opera posters displayed outside the Royal Opera Arcade in London was the next instalment in my search for the missing chandelier. Not far from here is the landmark Her Majesty's Theatre, where I once saw The Phantom of the Opera with its spectacular finale in which a giant chandelier descends ominously into the auditorium.
A chandelier is:
"A cathedral in Cartagena"
Jenny Osorio
"My parents' living room best feature"
Silvia Sgaramella
"A glasperlenspiel (glass menagerie?). War of the roses"
Astrid Ensslin
"A great device to detect earthquakes!"
Anonymous
"Drama. The quiet before a noisy wedding."
Barra Scanlon
Wandering in LA's downtown, the protagonists of In Search of a Midnight Kiss drop by the Orpheum Theatre, where they stage an impromptu performance. Their spontaneous show temporarily brings this abandoned theatre to life. Staged at the Orpheum (named after the ancient Greek poet Orpheus), their show also bridges the divide between LA and Athens – two dramatically different cities. LA's defining feature and theatrical attraction is its freeways – "the extraordinary spectacle of these thousands of cars moving at the same speed, in both directions, headlights full on in broad daylight" (Baudrillard America).
A chandelier is:
"From the old French title 'chandelier,' or 'man bearing candles' originally from the Sanskrit root Chandra, meaning 'moon'"
Anton Iorga
"Pieces of glass fracturing light"
Leanne Rempel
"A burst of knowledge that dispels the darkness of ignorance"
Peter Rolland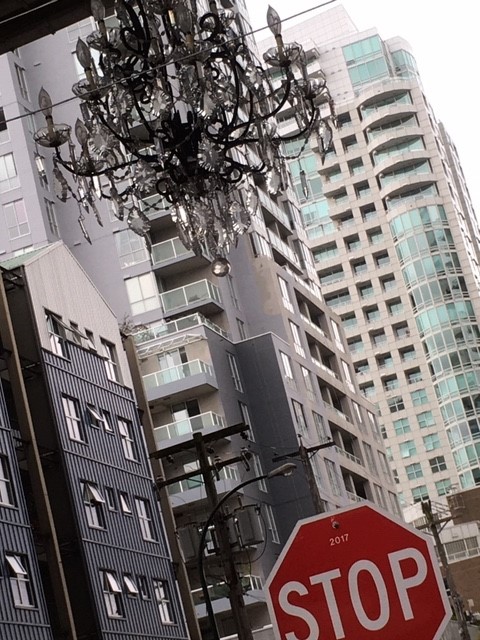 Like LA, Vancouver is a modern city dominated by contemporary architecture. Displayed under the Granville Street Bridge, the enormous stainless steel Spinning Chandelier by Rodney Graham is more consistent with this "city of glass" (Coupland). A set of spectacular chandeliers also dominates Café Faubourg Paris on Hornby, my sentimental favourite. Representative of the Old World many time zones away, this café is a great place to hide from the rain, to think back about Athens, and to plot new journeys – the search must go on.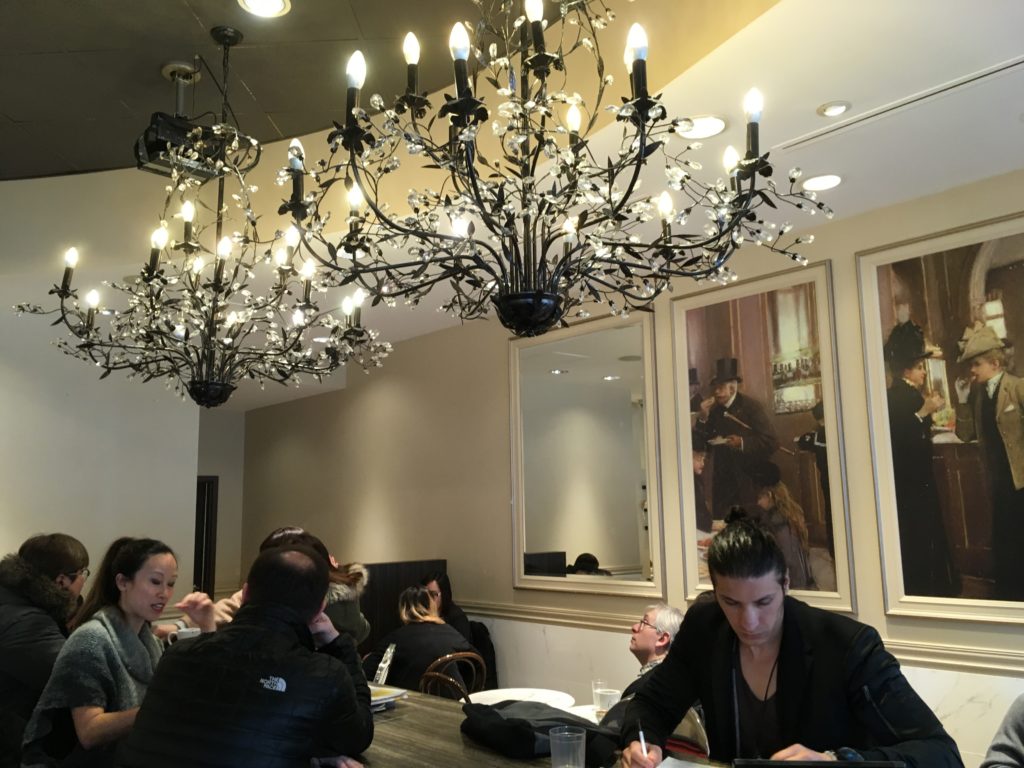 A chandelier is:
"A classy monkey bar?"
Jessica Holtby
"An escape way like in Cape et d'épée movies, or for Captain Jack Sparrow in Pirates of the Caribbean"
Héloïse Torck
"An open door"
Amber Elisabeth