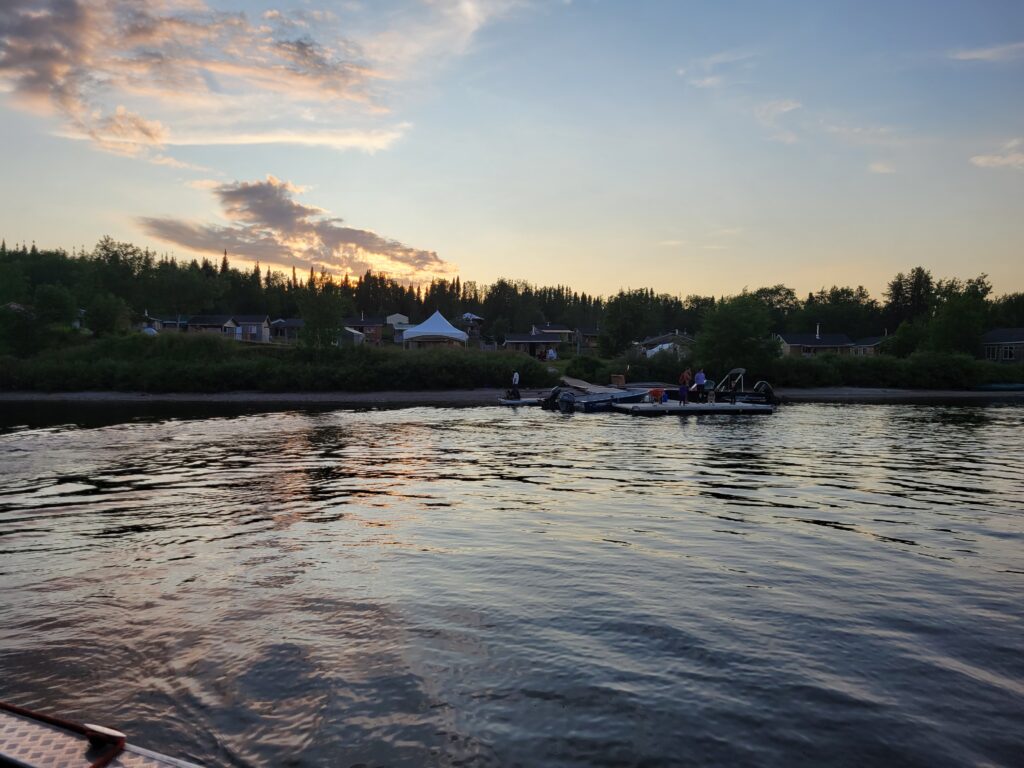 In Iiyiyuuayimuwin, one of the multiple Cree dialects spoken on the eastern coast and inland from James Bay, Eeyou Itschee signifies People's Land. Eeyou Itschee is the territory of eleven Cree communities and their traditional trapping and hunting territories. It is 2/3rds the size of France. Eeyou Istchee extends over 400.000km² and includes a great diversity of freshwater ecosystems, wetlands, estuaries and shoreline.
Since 1972, the traditional territory of the Eenouch (or Cree) has been terraformed by the largest project of hydro-generation system in the planet, led by HydroQuébec and the Government of Québec. Huge resources have been deployed. "215 dikes and dams (one 56 stories high) and 8 reservoirs (approx 13000km2), 11 generating stations and transmission lines, with more promised" have reshaped the land and redirected rivers.
Learning only from newspapers, the Eenouch came together and negotiated the first land claims agreement in Canada, surrendering about 99% of their territory for promises of economic development. 50 years on, a settler-colonial geography, reinforced by a complex sociolegal framework, contain and constrain spatial relations in and of Eeyou Itschee through constant processes of renegotiation and reparation for land with money. Success negotiating with HydeoQuébec has resulted from alliances with American environmentalists, who threatened to block exports of electricity to the Northeaster States.
Due to Covid-19 closure of communities, our research focused on a survey of the ways the science literature represents the region and its features. Our research ties with this territory are strongly linked to Nemaska, an Eenouch hamlet 2 days drive north of Montreal that was expropriated but managed to relocate and rebuild their community. Nemaska is at the northern edges of the boreal forest also inhabited by beaver, caribou and other species that cohabit these lands with the Eenouch. Not only has one of the major dams been constructed nearby, Nemaska has been in the spotlight due to the development of a lithium (spodumene) mine.
Hydroelectric projects have had severe consequences for animals also considered to be educators by the Eenouch. Due to the high levels of mercury released by the flooded forests, public health authorities recommend eating no more than two fish of certain species per month. Fluctuating spring river levels led to the drowning of tens of thousands of Caribou.
Eenouch have strong opinions about the extraction projects that are about to happen in their territory, for some of them the main preoccupation is how the river will receive residues of the contamination provoked by the exploitation of spodumene. Their experience with Hydro-Québec also generates doubts about any new projects. However, the Nemaska band council approved the project with little community consultation due to the benefits it might bring: employment, economic opportunities, royalties and compensation. Yet these divisions usually benefit settler colonial extraction industries that limit claims to justice to consultation and participation as long as they have a green light to develop these projects, avoiding a common and unified resistance.
Rob Shields (Univ. of Alberta)