Delerme, Simone. Latino Orlando: Suburban transformation and racial conflict. University Press of Florida, 2020.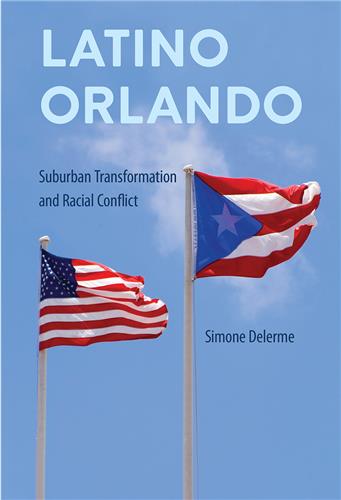 Latino Orlando: Suburban Transformation and Racial Conflict by Simone Pierre Delerme discusses demographic and social changes in suburban neighbourhoods in greater Orlando. When we think of Florida, we tend to imagine its sunny sky, nice weather and Disneyworld. During the 1980s, there was an influx of Puerto Ricans, coming from New York and Puerto Rico, who settled in the suburban neighbourhood of Buenaventura Lakes in pursuit of more economic opportunities in the sunny state. Migrants have shaped the local landscape and soundscape, particularly how race and class identities are constructed and represented. Delerme discusses how political unrest and turmoil, environmental disasters, and the desire to start over have caused changes in the patterns of immigration of people from Latin American countries (3). Delerme's methodological approach of renting rooms and living in the homes of different Latin American homeowners to achieve a greater scope of her research and using ethnographic interviews is particularly intriguing. Being involved with her subjects by living in these homes provided her with a broad view of how Latinos of different countries cohabitate with each other. While this provided a source of income for the homeowners of Buenaventura Lakes, it often led to invasions of privacy between homeowners and tenants. Using snowball sampling, Delerme also interviewed long time residents of Buenaventura Lakes, inquired about the community and people's thoughts on the changes they'd witnessed, and their experiences living and working in Greater Orlando.
Latino Orlando discusses how demographic changes frequently caused conflict between Latinos and non-Latinos. The racialization of Latino individuals and Latino neighbourhoods is exemplified by language ideologies that oppose the use of Spanish, which adds to residential segregation in these suburban spaces. Delerme recounts some challenging to read stories, gathered through interviews, of how Latino people struggled to arrive in the US and initiate their lives from scratch. This book expands our understanding of the Puerto Rican and Latino experience in Greater Orlando, as well as the effects of migration on both incoming and outgoing communities. The book also highlights tensions that also exist within the Latino population of Orlando's suburbs, a person from a different country of origin can often be marginalized by a person of another.
Latino Orlando explores how Latino immigration and settlement of Latino people from different countries of origin, can change American cities. The Latinization of Orlando has produced distinct social practices and geographies where Latino discourses are created and performed over time and space. Latino Orlando's study of demographic change using multiple methodologies and fieldwork might be interesting to use a model to study demographic change in other contexts, for instance in Canada. Cities across Canada have undergone demographic and social changes because of the immigration of different racial and ethnic groups. I would highly recommend this book to those who are interested in Latino immigration, as well as the broader dynamics of race and class conflict within neighbourhoods.