DON'T FORGET — Artists' Remnants and Paper Scraps
Curated by Arnaud Desjardin
Large Glass Gallery, London
16 Sept-13 Nov. 2015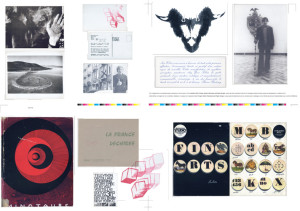 The current exhibition at Large Glass Gallery, London, features a unique collection of 20th century art avant-garde ephemera. Posters, invitations, announcements, memo cards and photographs remind us of the networks of relationships between generations of artists and between exhibitions, performances and even commercial work. "DON'T FORGET" reads a page from Richard Hamilton's block of notes, signed by Marcel Duchamp, elevating the slip to the status of art and confusing the boundaries between oeuvre and ephemera. Assembled by Arnaud Desjardin from numerous collections, these mementos of Marcel Broodhaers, Eileen Gray, Sol Lewitt, Yves Klein, Volf Vostell and many others are re-presented in a fine catalogue and accompanying poster.
We live in a time when ephemera has gone digital in the form of tweets and posts. At "DON'T FORGET," the signature wit of twentieth century art, such as Hamilton's a large paintbrush embossed "Hamilton Perfection" and tagged "Happy New Year Rita + Richard" neatly reminds us of not only remnants but the physicality of artistic media up until now. At the same time, the intangibility of artistic gesture is not just in the performance but also in the relations set up by the artist between ideas, words, everyday gestures and places. Scraps and notes, like the unsorted contents of a desktop, are not displayed as mere scraps nor as ethnographic fragments of past events. While some works are clearly art—prints, preparatory sketching and grey literature—other items expose rather the frames and scaffoldings around art, including lists, left-overs and envelopes.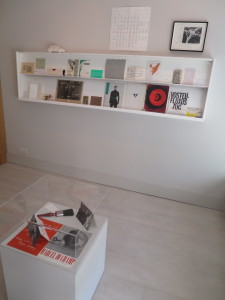 The success of this exhibition is its ability to make us rethink the status of ephemera as art. Is this exhibition a history museum display, or is it an art show? Even the nostalgic will find that Desjardin's show reveals art and the exhibitions themselves always were boundary objects. Looking back through the "Oculist Witness" of Large Glass Gallery, the geometric clarity of the twentieth century institutional definitions of art, collection, exhibition, curating, appear in a new perspective, in new relations to each other and to the artist and viewer. What is art? What are ephemera? What is exhibition? These are the enduring questions still confronting the new avant-garde.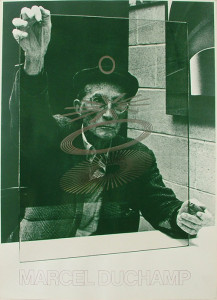 Large Glass Gallery 392 Caledonian Road London N1 1DN www.largeglass.co.uk
-Rob Shields (Univ. of Alberta)